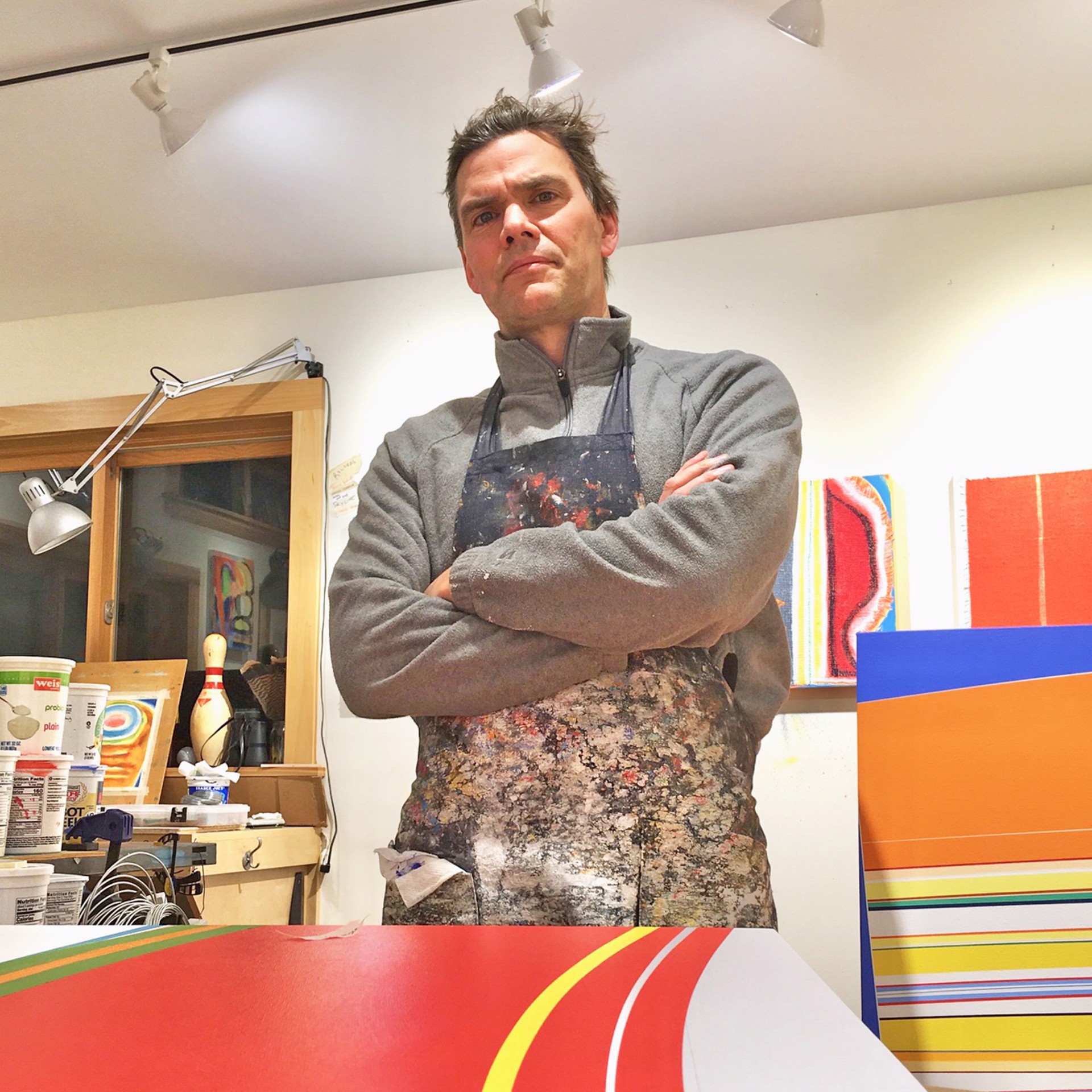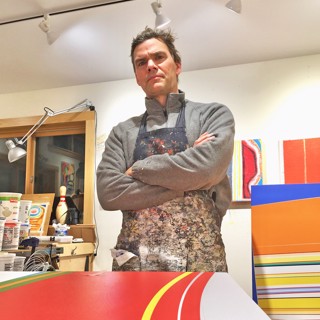 Kurt Herrmann ( b. 1972, Lock Haven, USA ) is a painter from the mountains of Pennsylvania who does both figurative and abstract work, but above all he is a colorist at heart. He is currently represented in prominent galleries across the United States, Australia, and New Zealand including recent exhibitions at Octavia Gallery, New Orleans, USA; James Oliver Gallery, Philadelphia, USA; Sozo Gallery, Charlotte, USA; Aarwun Gallery, Canberra, Australia; and 12 Gallery, Auckland, NZ. He's also exhibited in numerous art fairs including Scope Miami 2019, The Auckland Art Fair 2019, and The Sydney, Australia Other Art Fair 2018. Two of his recent shows were featured in Time Out Chicago ( "The Golden Claw" at Sidewinder Gallery, Chicago, IL, USA) and the Philadelphia Inquirer ("Moving Targets" at James Oliver Gallery, Philadelphia, PA, USA).
In 2017 Herrmann was commissioned to create eight large scale works from his Color Bomb series for the newly renovated Ulmer Hall at Lock Haven, University, PA. The Color Bomb paintings are also part of collections at Capital One Corporate Headquarters in Wilmington, DE, USA; Temple University, Philadelphia, USA; The University of Pittsburgh Medical Center, Williamsport, PA, USA; Sloan Kettering Cancer Center, New York, NY; as well as numerous collections around the globe.
Herrmann has also created six distinctly different and original beer labels for Elk Creek Cafe + Aleworks in Millheim, PA, USA. In 2017 his portrait of Claude Debussy was used on the cover of Monsieur Croche's book published in Milan by il Saggiatore Press; and recently he was commissioned to create a new artisanal honey label for Ouiska Run Farms, Indiana, USA.
Although his exhibition schedule is increasingly international, Herrmann's rural Pennsylvania roots continue to influence his work. "I'm very aware of the fact that even if a painting was initially inspired by something exotic, or an extremely personal event on the other side of the planet, all my work is filtered through my studio in the hills of Appalachia," he explains. "The colors, silence, space, seasons, landscape, even the rednecks impact everything I make. It's inescapable."
Read More