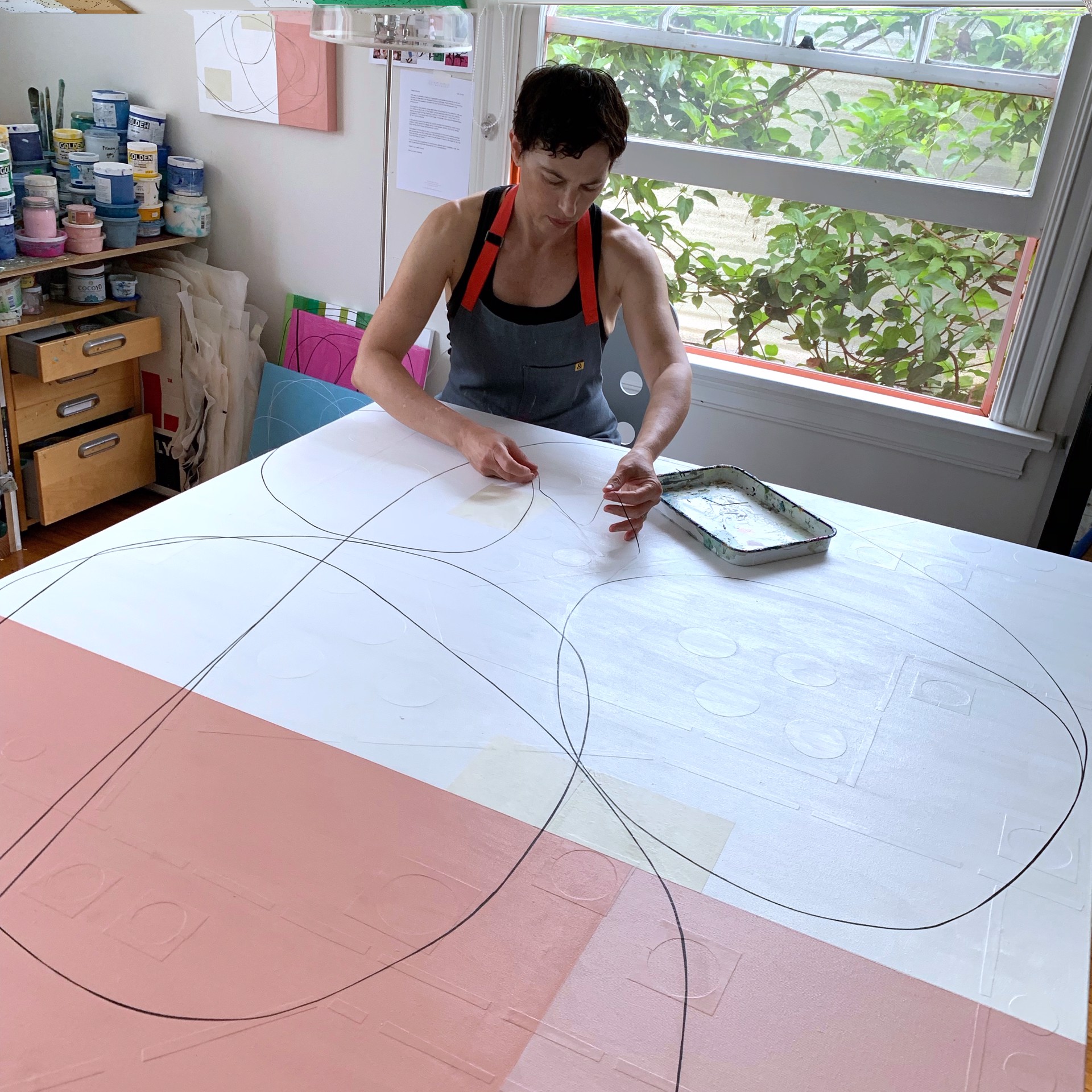 The abstract mixed media pieces of LA-based artist Maura Segal find their inspiration in the multidimensionality of the Los Angeles landscape. The geometric shapes juxtaposed by fluid lines and the muted tones paired with vibrant hues that permeate Segal's oeuvre resemble the coalescing of city grid, sprawling roadway, and vibrant floribunda in the ever-evolving City of Angels.
The artist creates abstract compositions through a technique and process that is all her own. Similar in concept to Donatello's rilievo schiacciato (or "shallow relief"), Segal forms a textured under-layer through cutting and pasting new and antique paper shapes onto a blank canvas. The artist then carefully paints color blocks over these shapes and finishes by pasting perfectly cut, extremely thin strings of paper in swirling and circuitous patterns overtop. With a meticulous attention to detail, an inherent desire for order, and an astute understanding of positive and negative space, Segal designs compositions that evoke a feeling of harmony and calm in both the assembling and the viewing of the artist's work.
While Maura Segal has always held a penchant for the creative possibilities of paint and paper, it was not until well after receiving a degree in Graphic Design from California State University Northridge and undertaking a career in clothing and lighting design that she decided to pursue her art fulltime. The enthusiastic support of her family and an initial commission from the Martin Luther King Junior Hospital in Los Angeles ignited a confidence in Segal that has carried her through her now eleven-year career as an artist.
Maura Segal continues to produce new and compelling mixed media pieces in rapid succession thanks to her passionate seven-day work week. Segal's exhibition history includes solo shows in Illinois, Louisiana, California, and Massachusetts. The artist's work also resides in the public collections of the DC JW Marriot in Washington DC, The Hotel at Avalon in Georgia, the Martin Luther King Junior Hospital in California, and the Albamarie facility in North Carolina. With an upcoming exhibition in Dallas, Texas, Maura Segal continues to explore the infinite artistic possibilities of paint and paper while enjoying the peace she finds in making her art along the way.
Read More