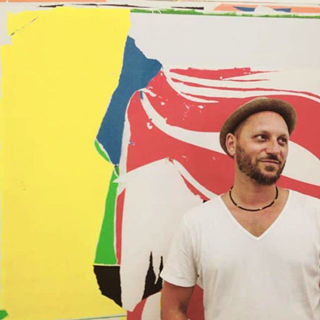 " Adhering collage elements to panels on which he can also paint, Cutlip gives just the right heft to his compositions, a balancing act that many who work in this vein never perfect," The San Francisco Chronicle's Art Critic, Kenneth Baker, says when descripting the work of artist Michael Cutlip. A multimedia artist with a self-proclaimed obsession with paper, Cutlip draws on the raw energy of urban life when crafting his mixed media works. Mixing found paper and paint on panels, the artist creates abstract compositions that highlight the juxtaposition of color, form, and texture.
An artist with a following in the Bay Area and beyond, Cutlip's exhibition history includes shows in San Francisco, New York, Chicago, and Vancouver, BC, and in 2014, he won the Alameda County Arts Commission Purchase Grant. Cutlip's work has been acquired by the corporate collections of Microsoft, Bloomingdales, Kaiser Permanente and the David & Lucile Packard Foundation, to name a few. His work is also featured in the Triton Museum of Art in Santa Clara and is a part of singer/songwriter Sarah McLachlan's private collection.
Born and raised in the San Francisco Bay Area, Cutlip was exposed to artistic endeavors at a young age through his mother, a writer and musician with a passion for arts and crafts. Despite his creative surroundings, Cutlip discovered art later in life, realizing his passion for visual expression in a drawing course he took at California State University, East Bay. Upon finding his true calling, Cutlip left his Business major to pursue a degree in Fine Art. The artist currently resides in Hawaii, with his wife and two children.
Read More