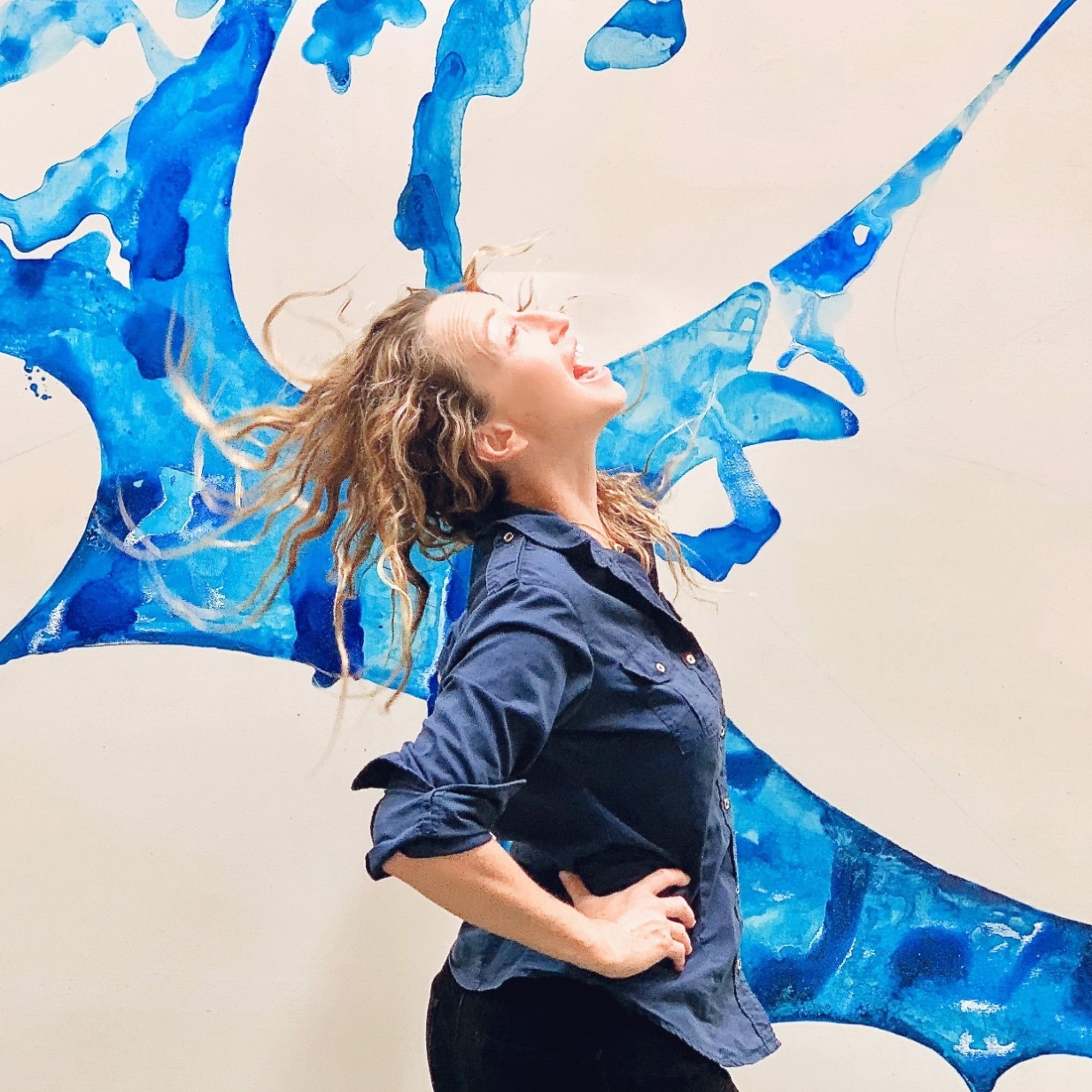 Nellie King Solomon approaches painting with equal parts irreverence and admiration. In lieu of canvas and brushes Solomon paints on the sharp industrial material of Mylar using custom wood and glass tools for pulling the paint in sweeping, gestural marks. Iconic abstract elements, bold colors, and unusual materials, like asphalt, swirl about, captivating the senses and revealing the tension between spontaneity and rigor at work in her practice. This year debuts her new technique mounting large Mylar works to inch and a half deep aluminum for a crisp architectonic finish.
Solomon takes a critical yet playful eye to painting. Trained as an architect, but never licensed, which might explain why she establishes rules, grids, or frameworks, only to challenge their very existence. At the heart of her unique artistic practice lies the confident ability to think and explore beyond the frame.
Solomon studied architecture at The Cooper Union for the Advancement of Science and Art in New York City and holds a BA in Art from University of California, Santa Cruz, and an MFA from California College of the Arts, San Francisco. She has taught art at Stanford University and California College of the Arts, and worked as an artist assistant to David Ireland, as well as provided architectural restoration on the Palazzo St Polo in Venice. She lived in Paris, Venice, Barcelona, and New York City before returning to California.
Solomon currently has an extensive exhibition of her works up at SMoCA Scottsdale Museum of contemporary Art, through January 31th 2021. Solomon has had solo exhibitions at Brian Gross Fine Art, San Francisco, CA; Ochi Projects LA, Los Angeles, CA; Ochi Gallery, Sun Valley, ID; Melissa Morgan Fine Arts, Palm Desert, CA; and N'Namdi Contemporary in Chicago, Detroit, and Miami. Group exhibitions have featured her work at The Berkeley Art Museum and Pacific Film Archive, Berkeley, CA; Crocker Art Museum, Sacramento, CA; and Bolinas Museum, Bolinas, CA, among others. Solomon's work has received extensive critical acclaim; featured in Art in America, Huffington Post, San Francisco Chronicle, San Francisco Examiner, Art Practical, Hyperallergic, Wallpaper, Harvard Review, ArtBlitzLA, Zyzzyva, NYTheatre, and Architectural Digest, among other publications. Her work is in the collections of SMoCA Scottsdale Museum of contemporary Art, BAMPFA Berkeley Art Museum and Pacific Film Archive, Steve Wynn: Wynn Las Vegas & Wynn Macau, Blue Shield, Google, Visa, Yves Béhar, and Sabrina Buell. Solomon is currently living in Los Angeles with her daughter and bunny.
Read More